Shree Sharda Group is a diverse conglomerate with a range of interests and ventures that span a variety of industries. Spearheaded by Anirudh Agarwal since 2004 and Saumya Agarwal joined the business in 2015, the company has grown significantly over the years, and today it is a leading player in fields such as real estate development, luxury retail, and more.
One of the key sectors in which Shree Sharda Group has made its mark is the food and beverages industry. With superbrands like PappaRoti and WoktoWalk, the company is a leading niche brand franchise in the FMCG sector. These brands have gained widespread recognition for their high-quality products and innovative approaches, and they have helped to establish Shree Sharda Group as a major player in the industry.
In addition to its food and beverage ventures, Shree Sharda Group is also known for its expertise in the residential real estate market. As a boutique residential development company, the company specialises in creating luxury spaces that are tailored to the tastes and needs of its clients. With a focus on new design, technology, and finishes, Shree Sharda Group's projects consistently deliver a unique and exceptional experience for its customers.
Overall, Shree Sharda Group is a dynamic and forward-thinking company that is committed to improving the lives of its customers through its many ventures. With a strong focus on innovation, quality, and collaboration, the company is well-positioned to continue its growth and success in the future.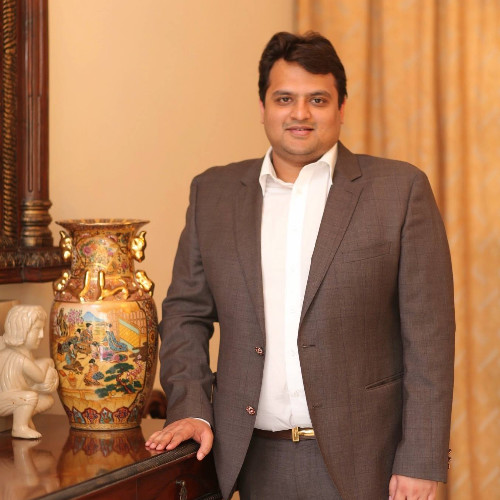 Founder / About Anirudh Agarwal
Anirudh Agarwal is a ninth-generation entrepreneur.
As the founder of Shree Sharda Group, Anirudh has led the company's expansion from its roots in jewellery and handicrafts into new areas such as real estate development, food and beverage and luxury retail. With a keen eye for opportunity and a deep understanding of what it takes to succeed, Anirudh has helped to build Shree Sharda Group into a leading player in these industries.
In addition to his role at Shree Sharda Group, Anirudh is also an active angel investor who is always on the lookout for new business opportunities and investments. With a focus on sectors where blue ocean strategies can be applied, Anirudh has played a key role in scaling companies such as Coolberg, Clensta, Strom Motors, and ZiffyHomes. He is also a TIE charter member and a member of BRICS. He is also an active member of a number of industry organisations, including YPO, CII, FICCI, Indian Angel Network, and IIM Lucknow.
With a strong educational background that includes an MBA from George Washington University and a B.Com (Honors) degree from Hindu College, Delhi University, Anirudh is well-equipped to lead his company and pursue new opportunities. 
Mission
Shree Sharda Group is dedicated towards improving the lifestyle of its consumers through its many ventures. We strive for excellence and we are committed to delivering superlative goods and services across all spheres of our work.
Vision
We envision a future wherein we enrich and enhance the lives of our consumers with viable solutions.
Values
At Shree Sharda Group, we believe in a set of core values that guide all of our actions and decisions. These values include:
Integrity: We are committed to honesty and transparency in all of our business dealings.
Innovation: We are always looking for new and better ways to serve our customers and improve our products and services.
Quality: We strive for excellence in everything we do, and we are dedicated to delivering the best possible products and services to our customers.
Collaboration: We believe in the power of teamwork and collaboration, and we work closely with our partners and stakeholders to achieve our goals.
Responsibility: We understand that our actions have an impact on the world around us, and we are committed to being responsible and sustainable in all of our business practices.